[image_slider_no_space navigation_style="light" highlight_active_image="yes" images="17070,17071,17072,17069″]
PH504K-DF-A2 – Phocept Digital Signage Kiosk 50″ Display – MDF. Ultra HD (Good for directory guide) Black / White

Digital Signage helps companies to increase their sales, strengthen their brands and streamline their information. The displays present offers, advertising, guidance and entertainment with greater impact than traditional signage can.
Phocept Digital Signage Kiosk offers several digital signage screens mounted on the wall (50″ & 58″). The digital signage screens are designed for optimum performance and functionality, everything from the embedded electronics to the appearance. Phocept can provide Food Photography, Table ordering System, Videography, and Retail digital signage content.
Phocept Digital Signage Kiosk 50″ Display is optimal for displaying different types of advertisements/information. The design possibilities are unlimited thanks to support both high quality images and videos. The thin design reflects the elegance of Phocept Digital Signage Kiosk Blade. The Ultra HD screen ensures optimal display of the content.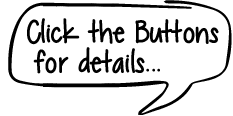 Digital signage
In order to achieve maximum impact of digital signage it is vital to provide eye-catching content. The content can be as simple as an image slide show, or more advanced as a combination of video, slide show, live feeds, weather, stocks and scheduling.
Solutions
Phocept provide solutions for content management. For simple content management, there's built-in USB media player in most of Phocept digital signage products. What are the features with built-in USB media player:
Create play lists of images or videos
20 different transitions effects for images
Time duration adjustment for images play list
Advanced Turn ON/OFF timer with 5 timer sets for Monday-Friday, Saturday and Sunday
Professional
For more professional content management Phocept provides a professional solution which is a combination of Phocept technology with using Android Box/Stick and Rise Vision platform for digital signage content management. The advantages of using the professional solution are many, below are some of them
The content management can be done remotely
The presentations (content) are much more advanced. It is possible to combine videos, images, live feeds, and many other add-ons since the platform is based on open source
Scheduling the content to be presented at designated time
Interactivity with the content
Simplicity of creating and displaying the content both in landscape and portrait mode
Scalability by offering content management and presentation on one or thousands of screens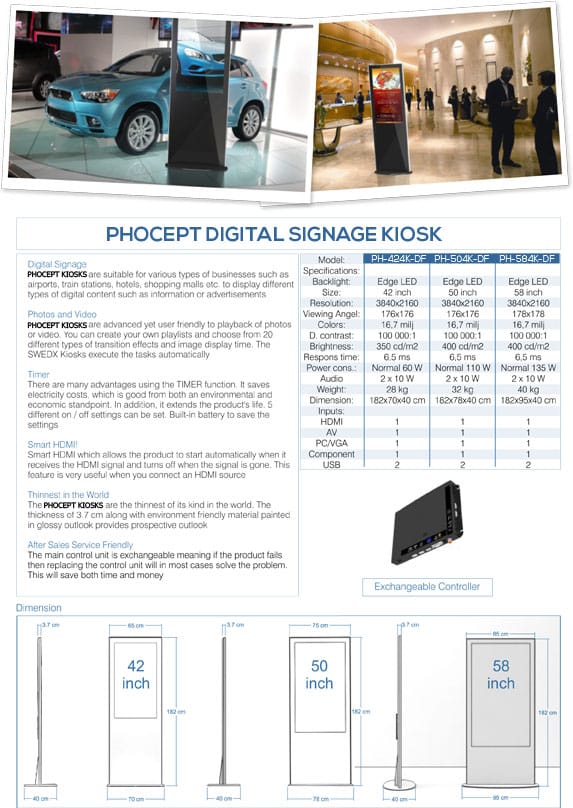 Other type of Digital Signage
[image_with_text title_tag="h3″ image="16870″ title="Digital Signage Screen"]
Digital Signage screens
are suitable for wall mounting dues to space constrain. Commonly found at shopping centre, restaurants, cafe, money changer, bank, hospital and etc.
Plug and play function or Cloud Software (Sold separately).
[image_with_text title_tag="h3″ image="16869″ title="Digital Signage Kiosk"]
Digital Signage Kiosk
known as interactive standee in Singapore are commonly place near their store to showcase their products and services.
Specification for Digital Signage Kiosk Stand:
Vertical display with Carpenter stand
4K Resolution (High Resolution)
Built-in USB port.
Finishes in Glossy black or white
[/image_with_text]
[action full_width="no" content_in_grid="yes" type="normal" use_background_as_pattern="" show_button="no"]
Let Phocept help you take your business to the next level with custom digital signage. Contact a Phocept consultant today at (65) 68116809.
[/action]