What do you need to know about Retail Signage in Singapore?
Tips for effective and cost-efficient Retail Signage for your Business
Retail Signage must be able to capture customer's attention at least few seconds. Easy and effective way to communicate with customers is through quality signage that will reflect company branding.
It's clear that signage is an essential tool to operating a successful retail establishment; there are many factors that must be considered when developing a Successful marketing strategy.
You may check with Phocept personnel to discuss on the suitable retail signage.
Tip No. 1: Focus on Concept
Retail Signage has only one purpose, that's to communicate with the customer what are the products or services you are providing. There are several ways to improve the customer experience. Clear and Precise + Clean and Neat.
Tip No. 2: Positioning and Location
Signage placement can be deceptively simple, but there are many important elements to consider. Anyway, you pay for Signage once and it works for you 24 hours a day and 7 days a week. Hence, find the suitable signage is not as simple as it can be.
Economic signage can be as simple as a piece of acrylic with company name on it, more outstanding signage can have lighting effect where passer-by can get attracted with the lighting and noticeable during night time.
According to our experience after ten over years of providing signage for our clients regardless of install it in the shopping centre, shop houses, stores, supermarket and many more. When order signage, try to avoid some factors such as glare, high reflection material on lightbox or acrylic signage and position it at location where it will not get block by any other hanging signs or high vehicle (Such as lorry).
Directional signage required in the store too, it works as guiding customers to products and services such as cashier, fitting rooms, new arrivals and many more. You can place product information signage near products to encourage sales. Remember, placement of the information signage usually made of acrylic so take into consideration of glare from overhead lights and it must be within eye level.
Tip No. 3: Do Research
You may consider spend some time looking at how establish retail store fit their main signage, directional signage and product information signage for consideration. You may discover something that you should do or event not to do in your own business. Eyeing to see what best practices you've implemented in your own retail signage.
Technology can helps in productivity if only marketing budget is permitted. Retail Digital Signage is an uptrend in retail environment as more retailers are considering digital solutions to traditional prints.
Digital signage sets a significant role play in retail signage as it gives genuine commercial value that add to shopping experience, such as automation scheduling offers, interactive digital signage that give us immediate directional to the store, instant try-on clothes and many more interesting applications.
 Tip No. 5: Get Overall Retail Concept Right.
Professional and well-designed Signage will leave a deep impression for customers. Brand positioning is very important, that's always a reason why corporate company will have their own branding documentation of their corporate logo and colours. "Be consistent with the feature lines, price, size, colour, and fonts so the customer's eyes can easily scan the sign. Allow for plenty of white space, keep the font simple, be sure the text is balanced and proportional and consider using bullets. Highlight words in bold or by using a different colour. Avoid using all capital letters, which makes it difficult to read."
Colour choices are also critical. Even a sign that looks nice and professionally designed from an aesthetic perspective may not be as readable as it needs to be in a retail environment. "Use contrasting colours for the fonts and background.
"Don't go crazy with colour. Get professional or Designer to pick a simple two or three colour scheme and stick with it throughout the store. Pick a background colour, text colour and highlight colour."
Tip No. 6: Honesty with Products / Services
Clear and precise message is what sets apart great signage from mediocre. Different business signage has specific goals, and when a retailer can convey these distinct messages in a way that is clear, informative, and above all, still on brand, that business is going to be more competitive.  "By paying special attention to the story, you give life to key products and elevate their perceived value. When a product story is told effectively, it has the power to turn a potentially ordinary product into a hard-won find. Your customers will then share these stories with their friends to give the products more enduring value."
Tip No. 7: Key to Success
Simplicity is key. "Make your signage easy to read. Some signs are so full of tiny images, starbursts, exclamation marks, and small print, that you can't take it all in."
Retailers can be strategic about signage development. After all, different types of signs and the variety of uses for each may mean that there is opportunity for a more sophisticated message. "The more time the customer will be spending looking at the sign, the more information you can include. For example, a sign near your cash register, where your customer will be waiting for a transaction to be processed, can provide details of a contest or return policy."
Tip No. 8: Consistency
Once a look and feel is established, just stick with it. "Ensure your branding logo and feel used consistently throughout all media, in stores, online and in advertising. Even colours, font choices and logo treatments, all must be the same. It gives customers' trust on your branding across the world and it's easy for franchise value.
Tip No. 9: Quality is always the Priority
"Signs will convey your authority and attention to detail. Make sure they are clear and accurate every time. Poorly printed signs, misspelled words and other inaccuracies can erode your credibility."
Get expertise in retail signage which can save you more time in doing all the research all by yourself. After all, business is all about professional, effective…and profitable.
Types of Retail Signage:
Don't just focus on the exterior signage that will be mount on top of the retail door. Wise retailers also must understand different signage to communicate essential information to the consumer, including:
Directional. Interior signage that help customers navigate the space.
Branded. Reinforce branding and message. Start from logo design to exterior lightbox or sign board.
Informative. Whether announcing a special event or fact details about product/service, signage that aim to awareness to customers.
Value demonstration. In addition to creating a sense of urgency, buy now or regret it later.
Highlighted. "New Arrival!" Ready to push latest product or clearance.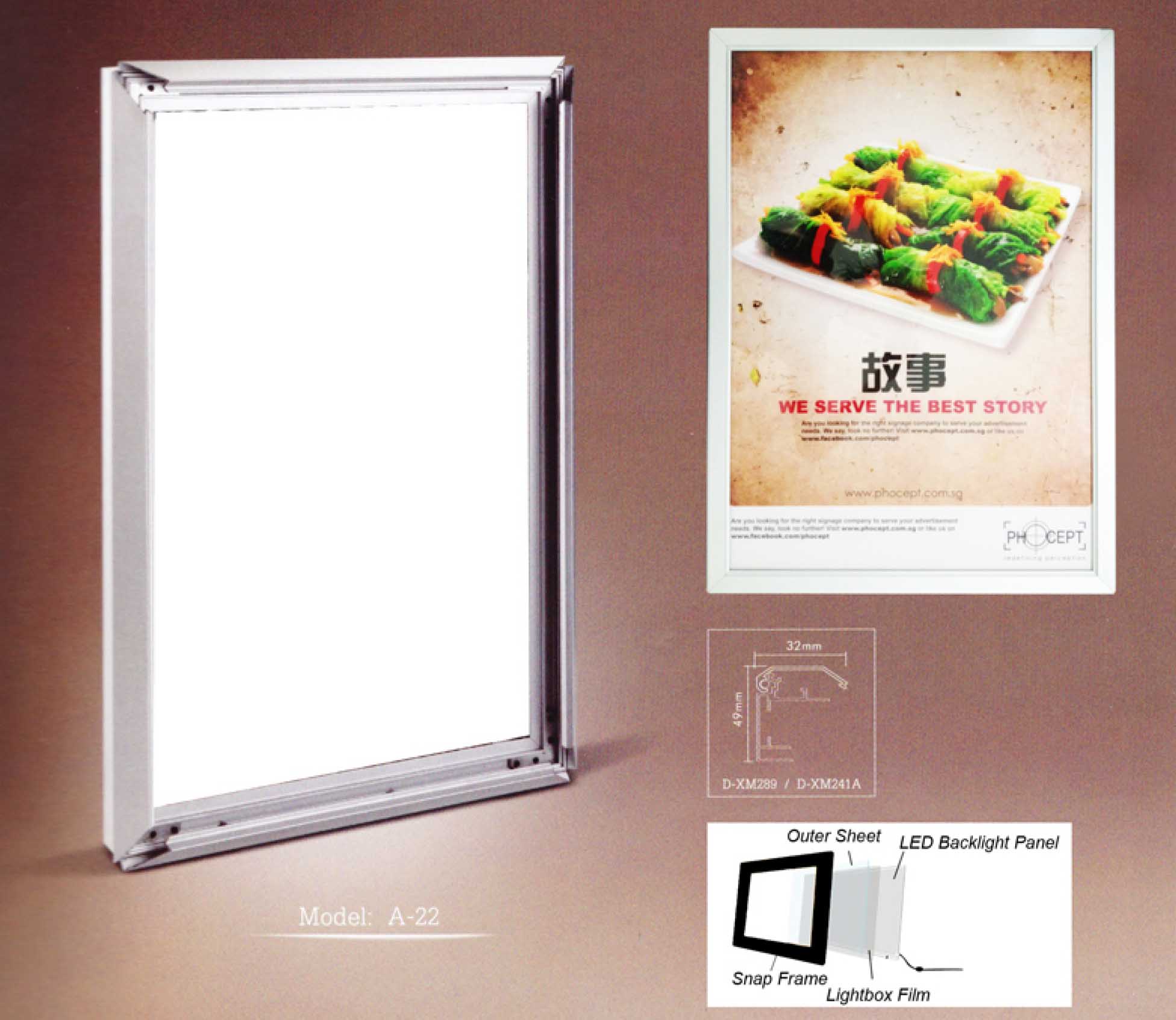 PROMOTION: Ultra Slim Lightbox (Black and Silver Frame) come in 2 standard sizes:
A1: 594 x 841 mm – S$500
A2: 420 x 594 mm – S$300