food Photography Singapore 
specialize for F&B advertisement needs

Have you ever encounter food images such as blurry photos caused by camera shake or using camera lens from mobile phone ; food photographs are not true to life and food images are just not as presentable as professional food photos?
Worry-free from how to plating, lighting, editing food images for your food stall?
Allow professional who specialize in food photographers to do the works for you so you can concentrate in your daily operating.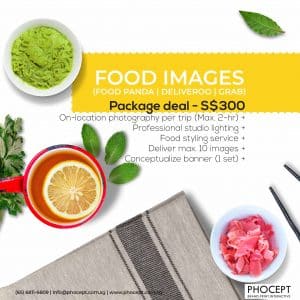 With Phocept experience in the Food Media industry since 2005, we believe in authentic, creative content creation. Building concepts for a diverse range of your Marketing needs from white background to conceptualize shots. Food styling and basic props will be prepare for you upon request. Convenient food pack photography is available too.
We ensure that we understand what's best for your product to stand out and it can be use at multiple platform (Offline and online). Food Images will be use for hawker signage or food court signage to printed menu, posters, name card. Current trend is online platform – food photographs can be show casing on social media marketing, website and online food ordering platform.
 To be honest, photographing food is much harder than just press the button on the camera. It takes lots of practices and upgrade skills in food styling skills. Invest on professional equipment is necessary for our commercial F&B owners.
Images taken from Phocept food photography services are meant for advertisement printing for hawker lightbox signage, food menu board, online ordering platform and many more usage.
Using Food Photo to attract craving customers
By using conceptualized food photography to tell the individual stories of each of the dishes you serve, we help your customers know why the food you serve is a class above that of your competitors. However, taking phenomenal food pictures is only part of what we do. This is because our photographers and graphic artists are food stylists in their own right.
From using carefully drizzled oil and iced water to enhance the color and vividness of your dishes, to using only the most sophisticated camera lenses, we help you create food images which are guaranteed to get peoples pulses racing.
Food Photographs that Sells
We are one-stop solutions for your F&B needs from photography to design, fabrication and installation needs. We are the bridge for your successful F&B business advertisement. We understand how you feel, we felt the same way when we run F&B business few years ago. This is what we have found – Marketing. If you can spend S$1 for marketing and get S$2 in profits, that's a good percentage in ROI (Return in Investment). 
Other Photography Services that you might be interested:
Thanks to Justin Lee to help rebranding my stall at Blk 123 Bedok North Street 2, Singapore 460123 from food photography to corporate branding.
Mary Teng
Finally found more affordable and reliable food photographer that suits our food style. Thank you Justin and his team for all our Food Image and design promotion needs.
Jocelyn
Amazing working experience with Phocept since 2008 till now. They done all my promotion advertisement needs fast and hassle-free for me.
Mr. Soh
I would say Phocept is the best company I've worked with and I will definitely work with them again for my new outlets and I will recommend them to all my F&B friends.

Lin Si Qi